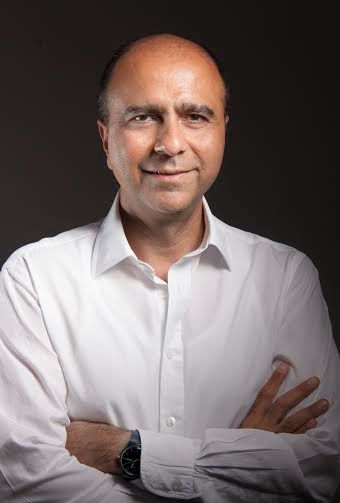 University of Colorado educated Aeronautical Engineer, Samish Kumar – bred in  America, India, and Africa, perhaps had never imagined during his college days that his ambition of being an aeronautical engineer would one day fly out in thin air and that he would shift gears and accelerate his business operations  to a global funds transfer company with a  banking network across over 120 countries and 200,000 payout points in the Americas, Middle East, Asia, Europe and Africa — all backed by GCP Capital Partners, a $1.8 billion private equity fund led by top investors in the payments industry!
Samish Kumar, NRI and the CEO of New York based Transfast has had a fascinating upbringing. After schooling in Bengaluru and Kanpur, he moved to Lagos in the 1980s to join his mother, who had moved there to embark on a teaching profession in an alien country.  Samish shares "My mom, a single mother, decided to move to Nigeria to take up the challenge of teaching. She had two young children to raise but she could do it because she was a very resourceful person. Eventually, her resourcefulness brought me to Lagos."  "My mother's family is a business-oriented family and the conversation at the dinner table was business, or politics. Because my mother's brother had a cement and transportation business, there was talk of government regulations and complexities. Solving those problems sounded fascinating. Even as a child, I could understand that business had lots of moving parts and that sounded interesting. Ultimately, business and entrepreneurship drew me in and became my career focus". Samish's father is a leading physicist.
Enrolling in the University of Colorado, Samish started out studying physics but later felt that it wasn't practical enough. He reflects "Engineering appeared practical and aerospace seemed interesting, which is why I pursued Aerospace Engineering. The University of Colorado was a key participant in the Strategic Defense Initiative, known as "Star Wars," and the program was well regarded. As I studied it, I realized it was an interesting field, but in the end, I couldn't see myself as an engineer". Samish decided to pursue investment banking out of undergrad, and later enrolled in Columbia University's Graduate School of Business, earning an MBA, and then worked on Wall Street in New York at UBS Warburg. He spent most of his career prior to Transfast in emerging markets. Samish elaborates on his journey "Even when I worked in large banks such as Barings and Warburg, I had entrepreneurial roles where I had to build something, think about issues around strategy and decide how to create the foundation to build a business. Investment banking gave me tremendous exposure to emerging markets and successful businessmen."
Early Influences
On a personal level, Samish's mom was a key influence. She was very pragmatic and a doer with lots of natural leadership skills, even without any formal training. Samish smiles and adds "My mom gave me lots of practical advice which, like many children, I rarely listened to when I was young, but now appreciate."
"As for professional influences, I enjoy reading about business leaders and how they got to where they are. It's fascinating to learn about the personalities of business leaders and what made them successful. I learned from many people I worked with along the way, and whenever anyone would say something thoughtful and insightful, I would make a mental note".
Acquiring Transfast
In the late 1990s during the dot-com bubble, Samish Kumar backed a financial venture. They were heavily exposed to the trade show industry and he took on the role of CEO. After 9/11, the trade show industry collapsed, and Samish had the choice of either going back to investment banking or continuing in an entrepreneurial role. He says "I decided to stay in an entrepreneurial role because I loved it, but I decided to do something closer to my background in financial services and emerging markets. I researched businesses that were fragmented and where barriers to entry were rising, where I thought there would be a good opportunity. That's when I became interested in the cross-border funds transfer and payments industry. Having spent time in emerging markets, I was familiar with the industry. Back when I was a child in India and my mom was teaching in Nigeria, it took a month to receive the money she sent home, via banks, so I knew first-hand the challenges people faced in sending money home. Barriers to entry were going up post-9/11, and I thought the industry would consolidate. There was high growth and great margins, and I felt that technology and the regulatory market would change the industry over time. The best way to get in was to acquire a company, so that's what I aimed to do".
He shares that  the process of finding and acquiring a company was a difficult journey fraught with a lot of uncertainty.  Acquiring the right company was critical to raise enough capital.The process took four years, from 2002-2006, with a failed deal in between. Samish adds "It felt like four years in the wilderness". He credits his wife Janice, for supporting and encouraging him during those tough years. "Janice's moral support and unflagging enthusiasm, plus her belief in me, made all the difference."
Tough Times and Challenges
Transfast is based in New York and is a leading omni-channel provider of multi-currency cross-border payments and funds transfer solutions for consumers and businesses around the world. It operates a best-in-class network across over 120 countries and 200,000 payout points in the Americas, Middle East, Asia, Europe and Africa with multi-product capability, including a leading, one-of-a-kind instant bank transfer offering. Their customers can send via desktop or mobile device, or from an in-person location, either directly into the recipients' bank account, or for cash pick-up at one of their locations.
Though things are going great today with year on year exponential growth, it was not rosy for Samish before its acquisition in 2007. He looks back on his struggle, saying, "I spent that four years knocking on doors. I tried to understand owners and entrepreneurs and what they were doing, while looking at opportunities and trying to figure out which company I could acquire. All the while, I was traveling on my own nickel. I was competing with another businessperson who was doing the same, but he was more credentialed and had already lined up some backers. Every company I spoke to had already talked to him". Then, as destiny would have it, Samish found a Brazilian entrepreneur who'd been approached by the other businessman but refused to do a deal. Samish educated him as to why it was the right time to sell, and that the time for what he had built had passed. His business needed an injection of funds and talent. Transfast thus fell in Samish's lap after a four-year struggle and he acquired it in April 2007.
Transfast had a good team and an excellent compliance track record, but it wasn't growing. The economy collapsed later that year, in 2007, and Samish was faced with the challenge of steering the company's growth in that environment. Despite all hurdles and challenges, Transfast managed to grow, and is today one of the fastest-growing companies in the industry.
Massive African Presence
Transfast has a massive presence in Africa where they operate in 23 nations; their bank network covers up to 90 percent of adult bank account holders in those nations. Their customers in U.S. and Canada can send online or via mobile to recipients' bank accounts at nearly 600 banks or to 6,000 cash pick-up locations inside banks in Africa.
Since Samish spent a considerable amount of his growing years in Lagos, Nigeria, he sees the opportunity offered by that vast continent. He adds, " Africa is an exciting place  with tremendous opportunities and challenges. Africa is a white board and you can create what you want, leapfrogging entire generations of technology. When I lived in Lagos, I used to travel 40 miles to make an international phone call. Today they have mobile phones and a 4G network. We're excited about the opportunity in Africa and will continue to be a leader there".
India's Growth Story and Its Impact
Samish finds India's growth story to be  very exciting as it is a large country with favorable demographics and a population which is very young. He opines that India's role in the tech industry goes back to the late 1980s and in today's global economy, tech is playing an important role in reshaping industries. This according to him augurs well for  India's growth prospects. He feels that India's economy is a broad one, not necessarily export-based and not reliant on export markets. With lower oil prices, the macro picture for India according to Samish looks very good.
Presence in India – 45,000 Locations and Counting…
Transfast's reputation of being an innovator was established when it became the first money transfer company to offer instant bank transfers, back in 2009. Transfast continues to expand its footprint across India and is in 45,000 locations. Samish dreams to reach people in every corner of India. He adds "India is a large country with more than 600,000 villages, and almost half of the population lives in rural areas. Having a network that's able to serve customers in the most remote part of the country where there is little bank coverage enables us to play a role in building financial inclusion."
Best of Both Cultures
Samish  says that it is no surprise that America is considered the hotbed of entrepreneurship in the world as he thinks America is an incredible country where everything and anything is possible, irrespective of where you come from or what your personal background is. He  adds "For an entrepreneur, America has an ecosystem which helps foster a supportive culture for entrepreneurship. People are open-minded about backing ideas from both proven entrepreneurs as well as from those without a track record. There's access to capital and as importantly, access to advice. There's no place like the U.S. for an entrepreneur, anywhere in the world.The country offers a big market across all industries, and it's a culture where you're never held back by the fact that something hasn't been done before. The U.S. is the place for innovators. In the U.S., there's emphasis on education, but also an equal acceptance and open-mindedness toward someone with great ideas even though they might not have the "right" educational pedigree. There's an American openmindedness in listening to their ideas and not dismissing them solely because they don't have the traditional education. Many entrepreneurs and CEOs don't have Ivy League degrees and they are incredibly successful".
He feels that India is producing some very good entrepreneurs  and that India is an environment where you have to adapt to survive and thrive. He opines " It produces people who are able to adapt to different cultures. India is a complex place, so you have to adapt and compromise and get along. There are millions of people on the streets every day — adapting and compromising allow you to make it. In India, there's a real appreciation for hard work. Plus, you have to be pragmatic if you live in India. Pragmatism is one of the qualities that helps India be so successful. Another strength is the emphasis on education which is a big plus for India".
Advice to Aspiring Entrepreneurs
Samish has worked hard to reach where he is today and he did not let his dreams fade away. He advises "You've got to dream and believe in your dreams. You have to be a hard worker. Hard work trumps everything else, and focus is critical. There will be bumps along the road and possibly even failures. You have to get up and push ahead. It's important to have the dream, the persistence and passion. You can't do it just for money. Yes, money is important — but it can't be the only thing driving you".
"Today's India is a very different place than it was when I grew up, and there are positive cultural changes that bode well for entrepreneurship. I see a greater acceptance of entrepreneurs and more tools at their disposal. Traditionally, there was emphasis on going to work for an established company. There's nothing wrong with that, but the exposure you get at small companies or from being an entrepreneur is starting to gain real respect in India".
He advises, "What's important as an aspiring entrepreneur is how you take advantage of your experiences, whether at a big company or small company. Ask yourself what you've learned from those experiences and apply them to an entrepreneurial role. There's no one way to become an entrepreneur — there are many paths, all of them potentially beneficial".